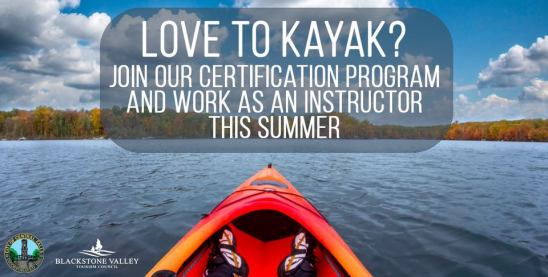 BLACKSTONE RIVER ACCESS KAYAK PROGRAM seeks kayak instructor candidates
The City of Central Falls, in partnership with the Blackstone Valley Tourism Council is seeking 3-4 motivated candidates who would be interested in becoming Level 2 certified kayak instructors.
In June 2021, the Blackstone Valley Tourism Council and the City of Central Falls will launch a river access kayak program for 200 children from low to moderate income families from Central Falls. The program seeks to increase access, understanding and familiarity with the nature and the wildlife that exists in and along the banks of the Blackstone River.
Qualified candidates will receive a three-day, Level 2: Essentials of Kayak Touring instruction. These candidates will then be qualified and required to provide training to the 200 Central Falls children and others during weekly and weekend kayaking sessions throughout the summer. Candidates will be reimbursed for their certification training by the Blackstone Valley Tourism Council upon their completion of the summer program. Instructors will be required to manage the kayak instruction during the summer months and will be paid hourly for this.
Kayaks, paddles and PFDs will be provided and all daily kayaking will depart from the Central Falls Landing, Broad Street Central Falls. All Covid-19 protocols and practices will be in place and enforced at all times.
Bi-lingual in Spanish and/or Portuguese a plus. After the completion of the evaluation and certification exam, candidates will have paddling skills, technical knowledge, rescue and teaching abilities and group management and interpersonal skills commensurate with this level of certification.
For more information about this exciting program and TO APPLY PLEASE CONTACT Mike Martin, Program Director, Blackstone Valley Tourism Council, 401-724-2200, mike@tourblackstone.com